24kaffesmaker
1
COSTA RICA - LAS MARGARITAS
Las Margaritas is a family run farm located in Santa Maria de Dota. Emmanuel Solis founded the coffee farm in 2013 with the goal of specializing in coffee varieties with great cup profiles such as Villalobos, Yellow Catuai, Sl28 and Geisha. This lot is a Geisha and the variety contribute to the aroma and flavor of this coffee. The farm is situated in a mountain range and good conservation practices are kept to keep the farm and trees healthy. Emmanuel has the goal of never using herbicides on his farm and has so far been successful. This lot is a natural processed Geisha and Emmanuel put a lot of effort in picking ripe coffee cherries, and drying them slow to keep the quality at its peak. This might be the tastiest coffee we bought this year, enjoy! 
Taste: Blueberry jam, floral, citrus, almond cake, fruit candy
Varietal: Geisha
Processing: Natural
Region: Tarrazú
Altitude: 1700 masl
Producer: Emmanuel Solis
Roaster: Kafferäven 
2
ETHIOPIA - CHELBESA
This coffee was produced by smallholder producers in the Worka Chelbesa kebele, or village, in the Gedeo zone of Ethiopia, and was processed at a wet mill in the kebele operated by Negusse Debela. Negusse operates two sites now in Worka Chelbesa, including one in the Danche sub-area, and processes Washed, Natural, and unique experimental lots in an effort to continue improving the quality of their final product.
Worka Chelbesa is located in Gedeb woreda, which is the southernmost part of the Gedeo zone. The area is known for its dense semi-forest vegetation, including ensete trees and other shade plants, providing ideal conditions for shade-grown coffee.
Local farmers grow Wolisho and Dega variety coffee, which are landrace varieties from the Yirgacheffe region. Cherries are manually harvested before being taken to the processing station where they are handsorted before being processed. Pulped coffee is wet fermented for 72 hours before being washed in channels. The fermentation tanks at Negusse's sites are ceramic, quickening the fermentation process and contributing to the clarity of the final cup. The coffee is then density sorted for quality, ensuring easy separation in higher grade lots. After fermentation and sorting, coffee is soaked for two hours to complete the fully Washed process and then dried for 10 days. All coffee is hand sorted a final time after drying before being prepared for export.
Varietal: Wolisho & Dega
Processing: fully washed 
Altitude: 2050 masl.
Region: Yirgacheffe
Owner: Nagusse Debela
Farm: Smallholder Farms 
Roaster: Björklunds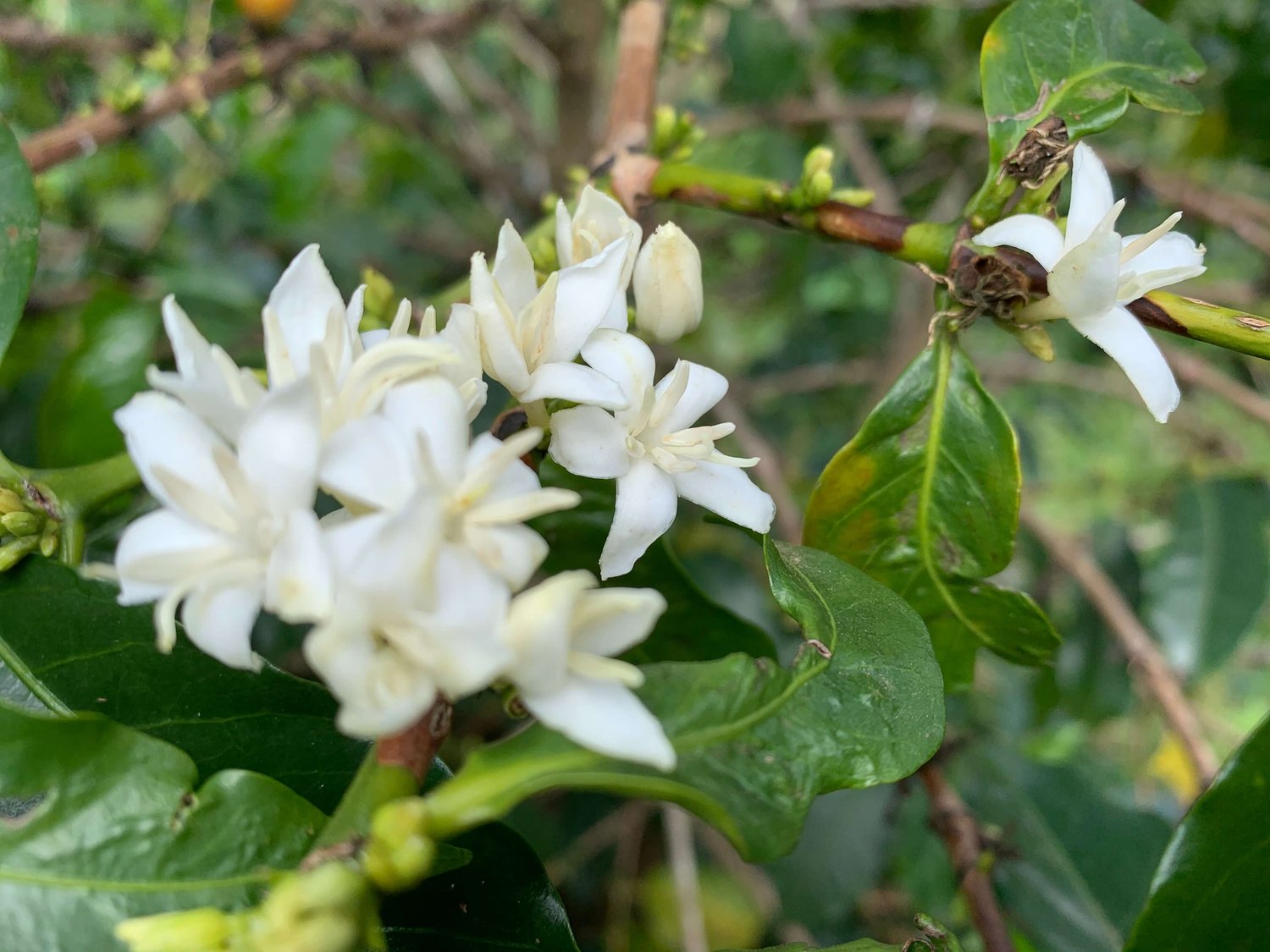 3
KENYA - KICHAWIR
Kichawir Farmers Cooperative Society is located in Western Kenya, where mostly tea is planted. But coffee has been grown here too, historically. There is a revival for coffee in the region and Kichawir is one of many cooperatives now producing speciality coffee. Between 1999-2011 Kichawir had 20 members, but since then the number has increased to 952. Kichawir has an ambition on getting an organic certificate and work with farm training in fertilizing and how to do pest control in an organic way. 
Taste: Rosebud, nougat, green apple, lime 
Varietal: SL, Ruiru, Batian
Processing: Washed
Region: Kericho
Altitude: 1700-2100 masl
Producer: Kichawir cooperative
Roaster: Kafferäven 
4
EL SALVADOR - LORENA
Renato Arturo Romero cultivates this Pacamara lot on his farm Finca Lorena at 1,250 to 1,300 meters above sea level. The warm days and cool nights create the ideal microclimate for growing dense, sweet cherry. Combined with Renato's focus on quality-oriented processing, this Natural Pacamara lot is clean and fruity with a rounded sweetness. 
Workers selectively handpicks ripe, red cherry and deliver it to the on-site washing station. Cherry is laid to sundry on raised beds. Workers rake cherry frequently to ensure even drying. It takes approximately 26 days for cherry to dry. After roasting, the coffee gets a scent of dark chocolate, black tea and flowers. 
Varietal: Pacamara
Processing: Natural
Altitude: 1250 – 1300 masl.
Region: Santa Ana
Producer: Renato Arturo Romero
Farm: Finca Lorena
Roaster: Björklunds kaffe
5
NICARAGUA - EL CAMBALACHE
El Cambalache has been in Samuels family since 2007, originally bought by his father. Samuel inherited the farm 2016 after finishing his Agronomy degree. He decided to become a coffee farmer in order to continue with his family's tradition.
The family decided to make the move into specialty coffee when they started to participate in Cup of Excellence. They have placed well during every competition year they have participated. In 2021 Samuel placed #2 in CoE with a honey Maracaturra from El Cambalache. Maracaturra is a variety with large beans. This lot is a selection of the smaller gains. Small for Maracaturra, yet still bigger than other beans!
Taste: Fruity, butterscotch, orange, plum, lingonberry juice
Varietal: Maracaturra
Processing: Honey
Region: Dipilto
Altitude: 1350-1450 masl
Producer: Samuel Zavala
Roaster: Kafferäven 
6
ETHIOPIA - BILOYA
Biloya washing station is located at 1,720 meters above sea level in Kochere, in Yirgacheffe. Over 300 farmers deliver cherry grown in the surrounding area. The distinct wet and dry seasons create prime conditions for coffee processing.
Farming methods in the region remain largely traditional. Yirgacheffe farmers typically intercrop their coffee plants with other food crops. This method is common among smallholders because it maximizes land use and provides food for their families.
In addition to remaining traditionally intercropped, most farms are also organic-by-default. Farmers in Yirgacheffe typically use very few—if any—fertilizers or pesticides. To capitalize on the changing climate, that station provides training to help farmers produce better quality cherry. Training focuses on procedures for harvesting and transporting cherry.
Farmers selectively handpick cherry and deliver it to the washing station station. At intake, employees hand sort incoming cherry to remove any under- or over-ripes or damaged cherry. Cherry is then pulped and fermented for 36 to 48 hours in the station's 12 standardized fermenting tanks. After fermentation, parchment is washed in clean water and transferred to some of the station's 136 raised drying beds where they will dry for approximately 18 days until they reach 11.5% moisture content. The marks all drying beds with a code that makes it simple to keep track of traceability and processing status.
Varietal: Local landraces 
Processing: Fully washed
Växthöjd: 1720 masl.
Region: Yirgacheffe
Owner: 310 farmers who deliever to station 
Farm: Biloya wahing station 
Roaster: Björklunds
7
ETIOPIEN - BENSA KOKOSE
This coffee is a natural processed lot from Logita statin in Sidamo. Red cherry bought from 18 farmers in the village Kokose. Here coffee grow at impressive 2100-2300 masl. The altitude give a cold climate, so the cherries mature slow, grow small and gets intense flavours. Very unique, and very tasty. Logita station is run by Heleanna after she took over her fathers business. Station manager Tamiru Dukamo take care of everyday business and make sure quality is on top. After harvest, the ripest cherries are sorted out, washed clean and floated before they dry for 15-20 days on African beds. 
Taste: Mature fruit, liquorice, nougat, apricot, viola
Varietal: Heirloom
Processing: Natural
Region: Sidamo
Altitude: 2100 masl
Producer: Heleanna Georgalis
Roaster: Kafferäven 
8
GUATEMALA - FINCA EL PEÑÓN
The farm is 75 hectares, 15 of which are devoted to forest reserves, while the remaining 60 hectares are planted with Caturra, Pache and Bourbon.
Ovalle is meticulous about teaching workers to pick only ripe, red cherry at the exactly right moment. He's used analyses of Brix degrees (sugar content) to find the optimal moment at which to pick cherry. Workers selectively handpick cherry according to their training.   
Finca El Peñón is dedicated to protecting the environment from any adverse effects of coffee growing. Ovalle has been focused on reducing water usage year after year and working with various certification programs to improve the farm's environmental and social impacts.  
After pulping, parchment and remaining mucilage is laid to sundry on patios. Direct sunlight helps to speed up dehydration of the parchment and mucilage. Removing excess moisture as quickly as possible and turning drying parchment frequently can help prevent of drying defects such as phenol and mold. Parchment takes up to 12 days to dry. 
Dry parchment is then bagged and stored on the farm to 30 to 45 days before being transported to a dry mill in
Varietal: Bourbon, Caturra, Pache
Processing: Honey
Altitude: 1450 -2050 masl.
Region: Huehuetenango
Owner: Ivan Ovalle 
Farm: Finca El Peñón
Roaster: Björklunds
9
COSTA RICA - VARA BLANCA
Vara Blanca is a farm run by Mario Marin and his two brothers. They are the third generation taking over this family farm, and they still dry the coffees on tables in their mothers rose garden. The drying tables at the farm house are located in a valley where cold nights and morning fog can create frost on the fabric protecting the drying coffee. This dijurnal  shange in temperature might contribute to the unique flavour profile from Vara Blanca. This lot is a honey processed Typica.
Taste: Red apple, crisp, tropical, butterscotch 
Varietal: Catuai
Processing: Orange Honey
Region:Tarrazú
Altitude: 1850-2050 masl
Producer: Mario Marin
Roaster: Kafferäven 
10
INDONESIA - RIBANG GAYO
Asman Arianto founded Ribang Gayo Musara Cooperative to offer competitive prices that can help his 350+ member farmers reinvest in their farms and their families. Asman Arianto is originally from Palembang, South Sumatra but has been living and working in Aceh Tengah since 1998. Most of the farmers in Aceh Tengah are migrants. Many of them were evacuated from Sinabung Berastagi in North Sumatra after the long-dormant volcano became continuously active again in 2013. 
Asman sold various items during the time he lived in Palembang, but he was interested in coffee production. So, when he arrived in Aceh, Asman entered the coffee industry and began collecting and processing wet-hulled coffee. He soon switched to collecting cherry and processing as Fully washed, Honey or Natural. 
He decided he wanted to build a cooperative to unite coffee farmers. In 2018, Asman formed the Ribang Gayo Musara Cooperative. His goal is to offer competitive prices that can help farmers reinvest in their farms and their families. The cooperative currently has over 350 members who deliver cherry to their processing facility in Pantan Musara. 
Varietal: Abyssinia, Ateng, Gayo 1, Gayo 2, Timtim
Processing: Wet Hulled
Altitude: 1500-1700 masl.
Region: Aceh Province, northern Sumatra
Owner: Asman Arianto + 350 farmers
Farm: Ribang Gayo Musara Cooperative 
Roaster: Björklunds
11
KENYA - MUTURA ESTATE
Mutura Estate is a farm in Embu, on the border to Kirinyaga, Kenya. Madame Jane is the boss, after taking over the farm from her late husband Mutura. Madam Jane has 10 000 trees, and a mix of SL and Ruiru, where the later is in majority. Altitude is 1520 masl and all coffee produces is pulped on a small 1 disk pulper, fermented and dried on tables that stand in different shaded spots around the house. While she also makes small lots of natural, the majority of her coffee is washed. 
All process is done by hand on the farm, and the 1-disk pulper is portable and kept in the house during the night for safekeeping, being one of the major investments on the farm in terms of machinery. After pulping, dry fermenting and washing the pergamino coffee dry on tables in shaded places around the farm. 
Taste: Milk chocolate, clementine, orange, spicy, white currant
Varietal: SL, Ruiru
Processing: Washed
Region: Embu
Altitude: 1520 masl
Producer: Madame Jane
Roaster: Kafferäven 
12
KENYA - KARANI AA
Employees at Karani Factory select and process only dense, ripe cherry. The resulting coffee is a prime example of Kenya's excellent Fully washed production. It's sweet and floral with black tea and citrus. 
Karani Factory was constructed 1998. It's operated by Kabare Cooperative Society and serves the more than 600 smallholder farmers who deliver cherry to the station. The snowcapped peaks of Mt. Kenya are visible from the factory and from many of the surrounding farms, creating a stunning vista.
Smallholder farmers cultivate coffee in the region's rich volcanic and sandy soil. The area is well irrigated and verdant. Most farms are extremely small, about 20 trees on average and provide cash income for families.
Smallholders handpick ripe cherry and deliver it to the factory that day. At intake, cherry is meticulously sorted. All sorting is overseen by the cherry clerk, who ensures that only ripe, undamaged cherry Is received.
Once sorted, cherry is pulped on the factory's disc pulper and then density sorted. Pulped cherry is dry fermented for 16 to 24 hours. Skilled staff oversee fermentation, checking regularly to ensure fermented is halted at just the right moment. After fermentation, cherry is sent through washing and grading channels. 
Parchment is placed on raised drying beds. Staff sort drying parchment to remove any remaining defective beans and turn parchment constantly to promote even drying. Drying typically takes between 1 and 3 weeks.
Varietal: SL28, SL34
Processing: fully washed 
Altitude: 1700-1800 masl.
Region: Kirinyaga
Owner: 600+ farmers working with kabare copperative society
Farm: Karani Factory 
Roaster: Björklunds
13
NICARAGUA - BRIDAZUL 'LIGHTS OUT'
Processing for Bridazul is more than just pulping, washing and drying the coffee. Years of data collecting and experimenting with fermentation methods, temperature and slow drying give Bridazul a unique position in the market with more options for processing than necessary. In 2020 Tim Willems at Bridazul found they had several experimental lots that in themself was too small to export, but combined could make a beautiful blend. Bridazul Blends was then created for the first time with huge success. This year several lots where made with coffee from several farms and with different taste profiles in mind. After a bit to much rum the blends got fantastic names as well.
'Lights Out!' is a blend from the following farms around Nueva Segovia: San José, Los Pirineos and El Avion.
Taste: Orange, lime, canned peach, elegante finish 
Varietal: Caturra
Processing: Carbonic Maceraton
Region: Dipilto
Altitude: 1300-1500 masl
Producers: Claudia & Tim
Roaster: Kafferäven 
14
NICARAGUA -BETHANIA
Located in the middle of a forest in Nueva Segovia, Finca Bethania is a true gem. Producers Martha and Ana Maria Albir cultivate coffee in a sustainable manner that protects the natural flora and fauna of the forest. Cherry is selectively handpicked and pulped at the farm's wet mill. Cherry is laid on raised beds to sundry and is raked frequently to ensure even drying. It takes approximately 20 days for cherry to dry.
Nicaragua may not be the most famous producer of Central American coffee, but it has great potential. The country is known as the land of 'los lagos y los volanes' (lakes and volcanos) and has many coffee growing 'pockets' that few have heard of or experienced. Many producers in the country are experimenting with new varieties and processing methods, making it a specialty origin to watch.  
Many coffee producers in Nicaragua today are buoyed by cooperatives that provide a wide array of services, supports and opportunity. As seen in the win of the 'El Acuerdo de las Tunas', where 3,000 landless workers won land rights, collective action by farmers can be far more effective at enacting widespread change than the advocacy of individual farmers.
Varietal: Red Catuai
Processing: natural 
Altitude: 1300-1500 masl.
Region: Nuevo Segovia
Owner: Martha och Ana Maria Albir
Farm: Finca Bethania 
Roaster: Björklunds
15
ETIOPIA - LOGITA
Heleanna Georgalis is one of our favorite producers, and we are excited to work with her year after year. In 2017 her company took over Logita washing station in Sidamo Bensa where this coffee comes from. Heleanna knows that having a station is the best way to push quality forward. This way she can control the post-harvest process and work closely with the surrounding farmers. In terms of flavor, Bensa is her favorite area for its flavor and potential and we can only agree. This lot is a washed process where coffee is pulped and fermented in tanks for 36 hours, then soaked for a few hours before it is dried on African beds. 
Taste: Bergamot, orange, apricot, floral, currant leaves
Varietal: Heirloom
Processing: Washed 
Region: Sidamo 
Altitude: 2100 masl
Producer: Heleanna Georgalis
Roaster: Kafferäven 
16
TANZANIA -TEMBO TEMBO
In this Fully washed coffee from Tembo Tembo Estate, the lush microclimate of Northern Tanzania meets the careful cultivation of Gaétan and Caroline Bordier. Since they took ownership in 2009, the Bordiers have renovated the farm and planted high-quality varieties with a focus on lot separation.
As with neighboring Acacia Hills Estate, the view from Tembo Tembo Estate is surreal. From the Northern edges of the farm, you can see the edge of Ngorogoro crater, an ancient collapsed volcano whose fertile valley is now home to dozens of different animal species: from African elephants to lions, rhinoceros and leopards and giraffes. The northern border of the estate lies along the Southwestern side of Mount Oldeani, whose slopes drain water into Lake Eyasi, a key saltwater lake on the borders of Ngorogoro Conservation area and Serengeti National Park.
Cherry is selectively handpicked and delivered to the farm's onsite wet mill. Cherry is pulped on an Ecopulper and dry fermented. Following fermentation, parchment is washed in clean water and then laid to dry on African raised beds for 8-10 days. Parchment is turned regularly to ensure even drying. Traditionally, the estate dries parchment directly in the sun.  Parchment rests on the farm for 1-2 months in lined, airtight bags stored on wooden pallets.
Varietal: Kent
Processing: fully washed 
Altitude: 1850-1980 masl.
Region: Arusha
Owner: Gaétan and Caroline Bordier
Farm: Tembo Tembo Estate 
Roaster: Björklunds
17
COSTA RICA - EL TRAPICHE
El Trapiche is located in the region of Guanacaste, and in the micro-region of Monteverde at 1350 meters above sea level. This is a farm that specializes in many types of farming like coffee, cacao, fruit and sugar, and on top of this they have a very successful business in tourism and do farm tours regularly. Since 2015 a change towards specialty coffee started, and El Trapiche begins to transform towards new varieties of coffee with the aim of obtaining those flavors desired by specialty coffee consumers. It was also in 2015 that El Trapiche started to process and export their coffee, using the traditional washed, honey and natural process. Due to the rise of fermentation processes, El Trapiche started with controlled fermentation in 2018 and now they master aerobic, anaerobic and Carbonic Maceration process.
Taste: Blueberry jam, coconut, papaya, apple pie
Varietal: SL28
Processing: Natural Anaerobic
Region: Guanacaste
Altitude: 1350 masl
Producer: Luis Diego Santamaria
Roaster: Kafferäven 
18
ETHIOPIA - GEDEB CHELCHELE
The Chelchele washing station is named after the village where the coffee is harvested. Farmers from the surrounding community bring their berries to this washing station on METAD´'s large farm in Gedeb, Yirgacheffe for processing.
Our partners at METAD developed their Out-growers Program in 2013. METAD is a family run business, with coffee at their roots for generations. They wanted to invest and support nearby coffee growing communities through this program, which has grown to over 6,500 memberships across both regions in Hambela and Gedeb. Growers who are part of the program receive training from METAD's team from the start. They are provided free seedlings and professional guidance at every stage of production, as well as pre and post harvest training to continue their professional development.
This coffee from the Chelchele  is grown at an elevation between 1800-2000 meters. It is a natural processed organic coffee. METAD has certified not only its own farms and processing plants but also the farms of those participating in the out-grower's program. The coffee variety is Heirloom, and the coffee gets notes of blackberry, honey and blood orange. 
Varietal: Heirloom
Processing: Natural
Altitude: 2000 masl.
Region: Yirgacheffe
Owner: Smallholder contributors 
Farm: Smallholder Farms 
Roaster: Björklunds
19
KENYA - GATAGUA
Kagaa Farmers Cooperative Society is a newly started cooperative society in Muranga that got its license in December 2019 and hence have its second season this years crop. We are excited to take part in their journey as it starts. We visited them in February 2020 and met the whole board that proudly showed the whole washing station Gatagua, and took us through the start of their business. Their moto is "Quality rules the price" and their aim is to have the best coffee in the region. If you ask us, they are of to a good start. Current member count in Kagaa is 609 active members, 409 male and 200 female. 3 trained staff that are employed all year and around 20 casual staff that work during harvest run the washing station. 
Taste: Black currant, rhubarb, creamy, pear
Varietal: SL, Ruiru, Batian
Processing: Washed
Region: Muranga
Altitude: 16001850 masl
Producer: Kagaa cooperative 
Roaster: Kafferäven 
20
COSTA RICA - LOS DURAN
The Duran family farm is in the village of Sarchí in the West Valley. Eduardo works the farm with his three sons; Barney is actively involved in coffee processing and production on the farm and Kendall and Arnold work as software engineers. They all show great passion for coffee and for continuing the work their father has been doing for decades.
All three brothers spent most of their school holidays working in the field either picking, stumping, or planting trees. The Durans recognize that today, in addition to carrying on traditions, one must be innovative in coffee production. Kendall is working hard with his brothers to help bring their coffee to better markets.
The farm consists of different plots of land, each between two and three hectares. The lowest plot, Santa Teresa, is 1100 meters above sea level and grows healthy Sarchimor trees and an F1 hybrid variety, a cross between an Ethiopian landrace and Sarchimor known as H1 Centroamericano. The El Roble parcel ranges from 1300 meters to up to 1650 meters and grows different varieties such as Catuaí and Caturra as well as other new hybrids such as H3 and H17. These hybrids can have great results in production levels and in the cup while being more resistant to disease and fungi.
This lot of Catuai coffee underwent Semi-Washed processing. Freshly harvested cherries are pulped and then transported to a plastic where they are fermented for 24–36 hours in the open air. After being fermented, water is added to rinse the pulped coffee. The rinsed parchment is dried on raised beds for 7–10 days.
Tasting notes: cherry, melon and cacoa nibs 
Varietal: Catuai
Processing: Semi-washed 
Altitude: 1475 masl.
Region: West Walley
Owner: Eduardo Duran
Farm: El Roble 
Roaster: Björklunds
21
NICARAGUA - EL ARBOL
El Árbol is located in Dipilto, a region in northern Nicaragua. This region became famous when Dipilto farmers won the prestigious competition Cup of Excellence year after year. The climate and altitude in Dipilto has the best conditions in Nicaragua for a great cup of coffee, if picked ripe and carefully treated after harvest. El Árbol is, unlike most other coffee farms, not passed down from generation to generation of coffee farmers. Unique for El Árbol is that the farm is run and owned by a group of friends in the coffee business, and Per Nordby was one of them. El Arbol was bought 2015 with the ambition to change the coffee chain and experiment with post harvest processing steps like drying and fermentation. This lot was created by letting coffee cherries undergo carbonic maceration fermentation in smaller batches for a short time in controlled conditions, before drying on shaded African beds, stacked a few cherries deep to maintain fruit intensity.
Taste: Citrus, honey, apple cider, blueberry, blackberries
Varietal: Pacas 
Processing: Carbonic Maceration
Region: Dipilto 
Altitude: 1300 masl
Producer: Claudia & Sasa
Roaster: Kafferäven 
22
COLOMBIA - LOS HERMANOS
This Los Hermanos coffee is the product of a partnership between the Torres brothers in region Nariño, Colombia. Juan Angel and Gabriel each farm a plot of land on their family's estate, La Indonesia, just outside of La Pradera town. The farm was part of the family inheritance, coming by way of their grandfather Marco Antonio Torres. The family's history in coffee is long, with Marco Antonio being one of the first people to cultivate coffee in Nariño more than 80 years ago. The middle Torres brother, Frank Rivas Torres, is a Q Grader who assists with quality control and advises on industry trends. The estate is planted with coffee alongside fruits and many different trees for shade, with an emphasis on preserving soil quality and responsible water management. Juan Angel oversees a five hectare plot of land at La Indonesia. Brother Gabriel Torres' plot is around 8 hectares total, with 60% of the cultivated land falling on a mountain slope 1750–1850 meters above the sea level. Coffee has been cultivated here for more than 30 years, originally growing mostly Caturra. The farm has over 300 square meters of patios for drying coffee.
Managing the health of the environment is a priority, as well as having a scientific approach to the quality of the coffee crop. Juan Angel explains, "Fertilization is done four times a year, twice with fortified fertilizer and twice with organic compost and humus. The most important challenge is to preserve the layer of organic material in the soil, which is accomplished by slashing weeds between the coffee trees. For eight years we have been responsibly managing water for processing. The fermentation process is very important. The coffee cherry level of maturation is measured with the help of a brixometer, with the goal of determining the optimal point of harvest. This evaluation looks for the best concentration of sugars that each coffee variety can have."
The brothers have planted several varieties together, including Pink Bourbon, Maragogype, Bourbon Sidra, Typica, and some 300 trees of Yirgacheffe variety. "Our challenge is to conserve and adapt foreign varieties of coffee that one day might be on the way to extinction in our area since the majority of the coffee producers prefer yields over quality and plant varieties like Castillo," says Gabriel.
This lot is a blend of Red Bourbon and Pink Bourbon cultivated by the Torres brothers. The Washed process for this lot begins with a 24 hour fermentation of the whole cherries in an environment that does not exceed 25° C. The cherries are then pulped, and the pulped coffee is fermented again for 25–30 hours. Once the pH reaches 4 and the sugar content reaches 9° Brix the coffee is then fully washed. The washed coffee was dried under partial shade for 25 days.
Varietal: Red Bourbun, Pink Bourbon
Processing: Washed
Altitude: 1800 masl.
Region: Nariño
Owner: Juan Angel Torres & Gabriel Torres
Farm: a Cafelina & La Indonesia 
Roaster: Björklunds
23
ETHIOPIA - DUMERSO
This coffee is grown in Dumerso and processed at the Moplaco process station located in Yirgacheffe. This station was started by Heleannas father Yanni Georgalis in 2005, and the first in Ethiopia and in the world to produce specialty natural. Nowdays, Heleanna take care of all of her fathers business, from farming to processing to export. 12 permanent workers are employed by Heleanna, and her manager Tessema Tzigso is in charge of this station. During harvest, numbers increase as many more hands are needed to sort the cherries drying. This sorting is done to ensure a sweet, clean and mature coffee.
Taste: Aromatic, orange, rose, raspberry jam
Varietal: Heirloom
Processing: Natural
Region: Yirgacheffe
Altitude: 1900 masl
Producer: Heleanna Georgalis
Roaster: Kafferäven 
24
EL SALVADOR - FINCA EL COCAL
The Alfaro family are 4th generation coffee producers. They own Agricola San Agustin and are focused on producing high quality specialty coffee at Finca El Cocal. The region's volcanic soil, high elevation and ideal microclimate combine to create superb conditions for growing dense, sweet cherry. The Alfaro family capitalizes on these condition by focusing on meticulous, quality-oriented processing. In addition to the highly coveted Geisha in this lot, they cultivate Red and Yellow Bourbon on the farm. 
Ripe, red cherry is selectively handpicked and brought to Beneficio El Carmen for processing. At intake, cherry is placed in airtight containers where it ferments anaerobically for 168 hours. Different microbial activity takes place in this oxygenless environment, creating unique flavors.
Following fermentation, cherry is dried on raised beds. Cherry is turned frequently to ensure even drying. It takes an average of 28 to 30 days for cherry to dry.
Varietal: Yellow Bourbon
Processing: Anaerobic natural 
Altitude: 1350 masl.
Region: Apaneca Mountain Range
Owner: Agricola San Agustin
Farm: Finca El Cocal 
Roaster: Björklunds
---
Enjoy your coffee. We know we will. Per & Johan